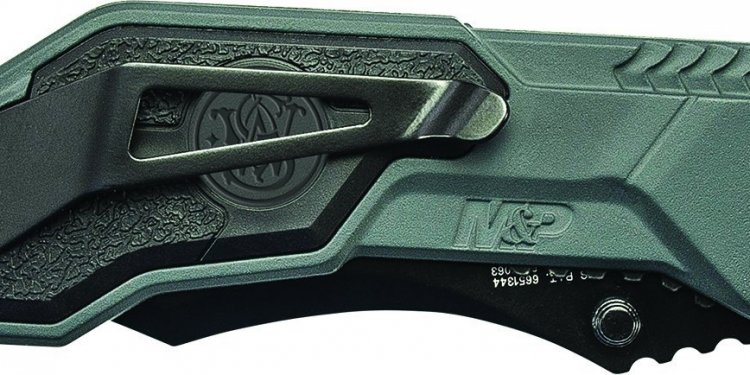 Best Smith and Wesson Knife

Trust the brand law enforcement and military personnel have used for over a century: Smith & Wesson. Knife buyers know quality blades will last a lifetime, and no other manufacturer has the reputation and history of Smith & Wesson.
Choose your next Smith & Wesson knife from among the dozens of styles in stock, and not only will you get one of the top names in the market, but you'll get our 60-day, money-back guarantee as well. With a combination like that, you are assured your new Smith & Wesson knife from Knife Depot will be a prized addition to your collection.
Recent Reviews - Smith & Wesson Knife Collection
Bought 3 for Christmas present. Men were very happy. Comments included " has a good weight to it" . Engraving was a really nice touch. I would buy again.
Bought this for my brother for Christmas, seems to be of good quality and the engraving looks great!
Little on the small size, but the blade design is good. There is an issue with the safety features of the knife and quick opening becomes a challenge.
Upon receiving my knife, right out of box I was impressed with the weight and ergonomics. It felt great in my hand. The lock is easy to access and work. The knife opens extremely well with a positive lock. The knife edge is extremely sharp. I would recommend this knife to anyone that wants a good feeling knife that contours well in your hand.
This is a very well made and designed knife as are all the Smith & Wesson knives. I have carried the Smith & Wesson Cutting Horse knife for years. This 1st Response knife is well made and just the right size, with the right length blade. I prefer the plain blade, but went ahead and bought a combo blade one to care in my van, for a backup. I carry the plain blade on me, as well as the Cutting Horse. The Cutting Horse has two blades, a plain blade, and a serrated blade, but the blades are a bit shorter. This covers most of my minor needs wandering around the Idaho mountains. The blades are a good solid thickness I can depend on when I need them. Back these up with a Schrade SCH 36 or SCH 37 survival knife and a Cold Steel SRK survival knife and you have all you need to handle your needs in the wilderness. This knife came very shape right out of the box. All I did was hone the edge to a razor edge with my Schrade honing steel, and it is good enough to shave with. Most knives come either dull, or their edges are not true to the same angle or same alignment. This knife was true the entire knife blade and centered from side to side. I am a knife collector and have several Hibbard knives and other expensive knives that haven't been built as well or been sharpened as true as this knife. I, especially, like the tension adjustment on the flip open mechanism. Most are just a screw loosening up the blade. Many times by the time you loosen the thing up enough to flip open properly, the blade wobbles. This has a different very nice adjustment. Maybe I just don't get it. I have been collecting knives for the past 5 decades. I have bought knives from $5.00 to hundreds of dollars. I've found most of the knives I've been most disappoint with cost in the hundreds. You know two of my favorite knives, and the ones that hold an edge the best were the cheapest. One cost me about $5.00, and one was sent to me free. For example, my favorite survival knives are the Shrade SCH 36 and SCH 37 which cost me around $25.00. I can see that this S & W 1st Response knife will be a winner, too, for what it was designer for. It is well made, and of a good size. It comes sharp, so novices don't have much to do but clip it to their pocket. They are selling it for $16 to $25, which makes it a buy for everyone.
Great knife and shipped on time.
About Smith & Wesson

Smith & Wesson is one of the world's most recognizable brands, and for good reason. Since we first opened our doors, we have focused on designing and manufacturing innovative solutions that are unparalleled in the field of personal safety and protection. Almost every major law enforcement and military agency in the world has used Smith & Wesson products, and to this day, most police departments in the United States depend on our firearms and accessories.
We've been a partner to law enforcement since the late 1800s, developing crime-fighting tools that set the standard for the field. Our world-famous .357 Magnum® was developed specifically for law enforcement agencies, and the Smith & Wesson .38 Special has been adopted as the caliber of choice at one time or another by hundreds of police departments. In fact, our .38 Special is so popular, the Smith & Wesson Model 10 firearm that fires it is the only handgun in the world that's been in continuous production since it was introduced in 1899, and to date, over 6 million units have been produced.
We continue to search for high performance in our newest division, Smith & Wesson Advanced TechnologiesTM (S.W.A.T.TM). Through S.W.A.T., we're developing sophisticated technological tools that assist law officials at the city, state and federal levels. We bring the same high standards of craftsmanship and precision quality to our technology solutions as we do to everything else we make.
Share this article
Related Posts