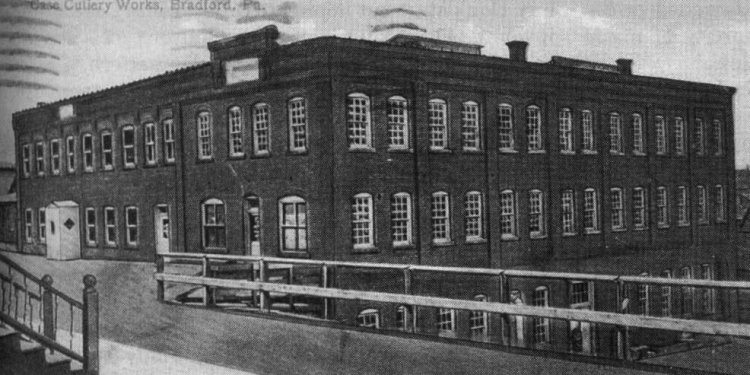 WR Case and Sons Cutlery Inc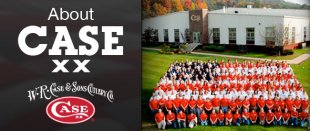 Our History
W.R. Case & Sons Cutlery Company is an American manufacturer of premium, hand-crafted knives that are passed down for generations. Based in Bradford, Pennsylvania, Case's offerings cover a wide range of product categories, from traditional folding pocket knives and fixed blade sporting knives to limited production commemoratives and collectables.
The company's rich history began in 1889 when four brothers - William Russell (W.R.), Jean, John, and Andrew Case (a.k.a. "The Case Brothers") began fashioning knives and selling them along a wagon trail in upstate New York. W.R.'s son, John Russell (Russ) Case, a former salesman for the Case Brothers brand, launched W.R. Case & Sons around the turn of the 20th century. Russ's father acted as his son's consultant, helping to stabilize the company's early finances while building a reputation as a dependable supplier of high-quality cutlery.
Today, Case is owned by Zippo Manufacturing Company, makers of the world famous Zippo® windproof lighter, another family-owned business based in Bradford. The company's original knife concepts and manufacturing methods have been recognized with awards and features from major print publications, international trade organizations and events, broadcast television shows and major motion pictures.
A unique tang stamp dating system used since the very early days of its history has made the Case brand one of the world's favorite collectable brands. The Case Collectors Club, with 19, 000 active members, is the largest known knife collecting association in the world.
Case's pioneering spirit is shown in several of its original knife patterns, like the CopperLock®, Baby Butterbean®, Cheetah®, Cheetah Cub®, Sod Buster®, XX-Changer®, Baby Doc, Kodiak Hunter®, Tiny Trapper, Mako®, RussLock®, Hunter Trapper, Tiny Muskrat, Jr. Scout, Sway Back Jack, Hobo®, and all-new BackPocket. Case's commitment to quality is evident in the 125 pairs of hands that it takes to create just one knife. Case knives start with carefully shaped handles made from a wide range of genuine materials like Brazilian cattle bone, stag antler, buffalo horn, mother-of-pearl, exotic woods and stones. Brass, nickel, and silver components highlight each form, bringing together knives that are not just beautiful, but able to stand the tests of time and use.
The brand's popularity is underscored by the knives it manufactures under licensing agreements with popular American icons like Boy Scouts of America®, Ducks Unlimited®, Elvis Presley®, John Deere™, John Wayne® (Wayne Enterprises), Johnny Cash and National Wild Turkey Federation.
W.R. Case Factory Tour
We will take you through our 160-step process that has produced knives worthy of the famous Case trademark for over 100 years.
Share this article
Related Posts