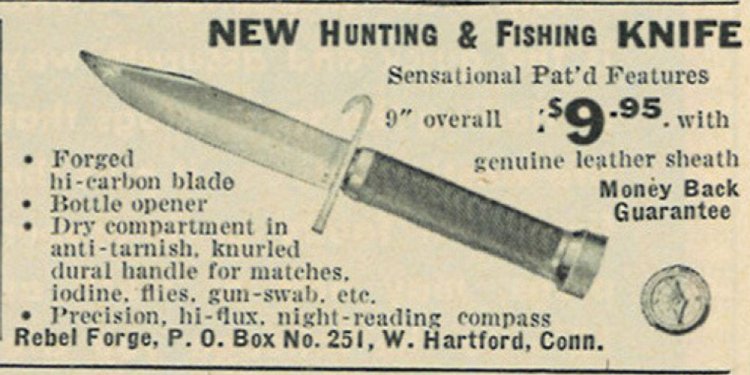 Case sheath Knives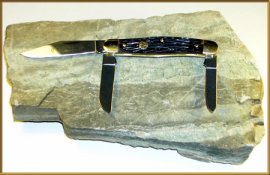 Pocket Knives
We stock excellent brands that are made in the USA: Bear and Sons, Buck, Case, Gerber, and Kershaw. We also carry CRKT, Puma, and Boker. A few are listed for sale below, but we have many other choices for handles.
3-Blade Stockman. Brown grand canyon jigged bone handle, 4" closed length nickel silver bolsters, high carbon stain resistant blades Price $64.50 $2.00 handling fee, and optional insurance of $10.00.
Case
The CASE brand has weathered the storms of over a century and still produces one of the most attractive products in the pocket knife market.
Made in the USA with high quality materials, it depends on the support and purchase by citizens interested in investing in American ingenuity. The blade steel is either a polished surgical steel or the standard hi-carbon chrome veradium that has been popular for many decades.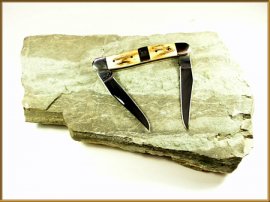 The CASE numbering system tells all! For example: 6347. The first digit in this case 6 indicates the type of material used. The second digit in this case 3, indicates the number of blades. The last two or more digits (i.e. 47) indicate the factory pattern. The tang stamps indicate when the knife was produced. So, every CASE knife is a history of your family member as to when they carried a CASE pocket knife. Do you have one you are curious about? .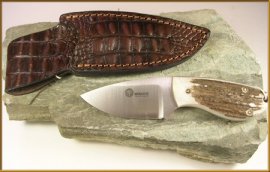 Case 2 blade Muskrat. Stag handles, 3 5/8" closed length, nickel silver bolsters and inlay, stainless hi-carbon blades. Beautiful handcrafted workmanship. Truly an item to lust for. Price $135 $2.00 handling fee, and optional insurance of $10.00.
Sheath Knives
We carry several models by quality brand knifemakers, including Boker, Marble, and Ruana. Following are some of our HUNTER SPECIALS.
Boker Caper with genuine stag handle. T6Mov, steel blade, thumb ridge for control. Blade measures 3", overall 6 1/4". Price $79 $2.00 handling fee, and optional insurance of $10.00.
Bear Drop Point Skinner. High carbon stainless steel, hollow ground for ease of sharpening. India stag bone handle; length measures 7 7/8" Price $64 $2.00 handling fee, and optional insurance of $10.00.
Stop by the shop in Butte, Montana, to see our great inventory. We also specialize in mail order services. If you see something you would like, please
Share this article
Related Posts