Case Copperhead Knives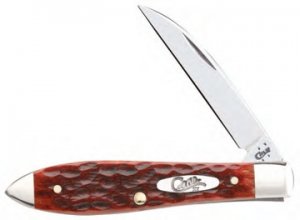 Case Knives for Spring 2016
Case Tear Drop #1028W CV. Image courtesy of wrcase.com.
The knife designers at W.R. Case & Sons Cutlery Co. never rest. Case has a core product families group of knife patterns and models they produce on an ongoing basis. Beyond this, they also do runs of seasonal knife families that are announced for the spring and fall of each year.
These seasonal offerings are often trial runs of new knife families. Typically, they will come and go, in the sense that a particular family of knives may be listed in one or more seasonal catalogs, but will then disappear for an indefinite time. Occasionally, a knife family or model that starts out in a seasonal catalog is so successful that it becomes a member of the core product group.
I need to summarize some Case terminology before going further. Case uses the terms knife pattern, knife model and knife family in an interrelated way. A knife pattern is a particular size and shape of knife handle frame, with specific blades installed (e.g., Medium Stockman, Peanut, Trapper, etc.).
A knife model is a particular knife pattern, finished out with a specific handle material. The knife pictured above, for instance, is a Tear Drop pattern with a carbon steel Wharncliffe blade, finished with jigged Chestnut Bone handle scales.
Finally, a knife family is a group of different knife patterns that all have the same handle treatment. For example, the Green Curly Maple family includes knives in six different patterns, all of which wear green stained curly maple handle scales.
New in the Spring 2016 Product Guide
Case lists thirteen new knife families in their Spring 2016 seasonal guide (catalog), accessible via the Case website ( These new families contain 85 specific knife models in total. (As I said, the Case knife designers never rest.) Generally, each family is named for its handle material, although a few families are named for a theme. The summary list below also notes the number of knife models in each family and the page in the Spring 2016 guide where the family is listed. All knives have folding blades, unless noted otherwise.
Cotton Candy Bone: 8 models; p. 4 (Limited XX Edition, Series XXXII)
Pocket Worn Denim Bone: 8 models; p.6
Worked Bolster Autumn Bone: 6 models; p. 8
Green Curly Maple: 6 models, p. 9
Smooth Persimmon Orange Bone: 8 models; p. 10
Second Cut Gray Bone: 8 models; p. 12
Autumn Harvest Bone: 6 models; p. 14
Barnboard Crimson Bone: 8 models; p 16
Carved Persimmon Orange Bone: 6 models; p. 19
Green Apple Bone: 8 models; p. 20
Sunflower: 3 models; p. 22 (synthetic handles)
Mushroom Cap Leather Hunters: 6 models; p. 24 (fixed blades with stacked leather handles)
John Wayne (theme): 4 models; p. 49 (smooth red sycamore wood handles)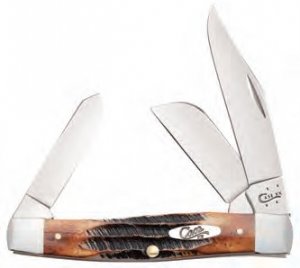 Also, the Spring 2016 guide lists three other knife families that contain previously issued knife models, with one or more new models added, as follows:
Smooth Antique Bone: 8 models, 1 new; p. 29
Ichthus (theme): 7 models, 1 new; p. 35 (smooth white synthetic handles with Ichthus shield)
United States Marine Corps (theme): 8 models, 3 new; p. 45 (dark red or navy blue jigged bone handles)
Finally, there are a dozen additional families that are repeats of previous seasonal issues, with no new knife models added. I will not detail those here.
New in the 2016-2017 Core Product Guide
There are also new offerings in the 2016-2017 Core Product Guide. Fourteen of the knife families in the core product guide have new knife models that were added since the 2015 core product guide was issued.
Abalone: 7 models, 1 new; p.4
Mother-of-Pearl: 8 models, 2 new; p.7
Patriot Kirinite: 9 models, 2 new; p. 8 (synthetic handles)
Black G-10: 6 models, 1 new; p. 11 (synthetic handles)
Buffalo Horn: 9 models, 3 new; p. 12
Pocket Worn Old Red Bone: 10 models, 1 new; p. 14
Pocket Worn Harvest Orange Bone: 8 models, 1 new; p. 19
6.5...
Share this article
Related Posts